Christmas with Walt Disney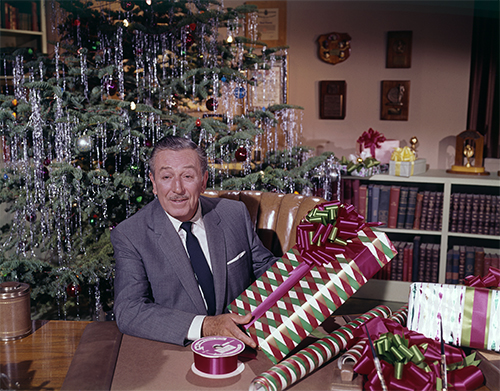 In a Walt Disney Family Museum original production directed by Don Hahn, guests can view Disney family home movies and holiday segments from Walt's shorts and feature films as Walt's daughter, Diane, shares her Christmas memories alongside Disney family home movies, holiday segments classic Disney films, and vintage Disneyland footage.
Christmases for young Walt were a humble experience, with a preference in the Disney family of exchanging practical gifts. It was Roy O. Disney, Walt's older brother, who made Christmas special for his younger siblings. He made sure to gift each sibling and his parents something frivolous every year, such as candy or toys.
As an adult Walt looked forward to becoming a father and sharing special times with his family. Though Diane and Sharon Disney were the daughters of one of the most famous men in America, their Christmases were rather modest with a few sweet presents. The day was "centered on family," as Diane recalled, with relatives enjoying quality time with one another. Walt and Lillian hosted Christmas dinner every year and the family would gather after the meal to sing Christmas carols together.
Walt was a generous man and gave the world so much through his innovative storytelling, but he was also generous when it came to gift giving for his grandchildren. "He liked playing Santa," as Diane fondly shared. After Diane and Ron had Christmas morning with their children, they would travel to Walt and Lillian's home where presents would be waiting. Diane recalled: "This was the mid-fifties when there was a lot of Disney merchandise and there would be a big box." Walt was not only giving to his grandchildren but to children he did not know. Diane remembered: "We learned later that Dad sent boxes like this to a lot of people, it was just something he did, something he loved to do."
Many of Walt's films feature Christmas scenes including: Lady and the Tramp, Babes in Toyland, Swiss Family Robinson, and more. Walt's love of the holidays is unsurprising given his embrace of family; Christmas for Walt was yet another opportunity to create magic and happiness for his audience. "He shared Christmas with us but also with the world at large" said Diane. At The Walt Disney Family Museum, we are happy to share this seasonal treat with all of you. For more holiday enjoyment, be sure to view our latest instillation Home for the Holidays at Carolwood.
---
Fun Facts
-Make sure to stick around for the credits of Christmas with Walt Disney to see Christmas cards from the The Walt Disney Studios from Walt's time.
-The jazz band the Firehouse Five Plus Two, featured in a clip from One Hour in Wonderland, was formed over lunch breaks at the Studios. The band gained commercial success throughout the 1950s and 60s.
-Walt and Lillian Disney were fond of winter sports, including skiing; Walt's skis are on display in gallery three of the main galleries
-Footage of Diane at the Sugar Bowl Ski Resort can be seen in Christmas with Walt Disney. "Disney Mountain" at the Sugar Bowl is named after Walt, as he was one of the resort's early investors.
-Diane Disney Miller described gallery nine as "Christmas morning." The gallery focuses on the company projects from the 1950s and 60s. Most captivating is the detailed model of Disneyland.
Happy Holidays to you and yours from all of us at The Walt Disney Family Museum.
---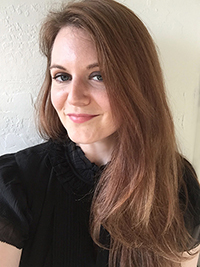 Jenna Benton
Guest Experience Associate at The Walt Disney Family Museum
---
Sources
Disney Miller, Diane. Interview by Don Hahn, 2009.
Discussion