Keeping the Hobby Alive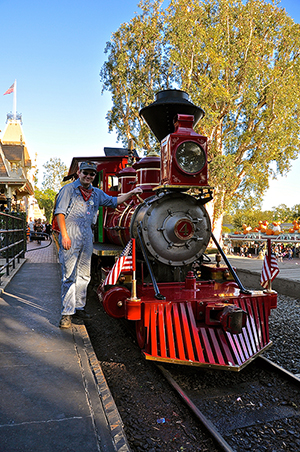 The same passion that drove Walt Disney and others to pursue their love of model railroading remains strong today. Tom Nance once spent his time running locomotives around Walt's Magic Kingdom, and these days he can be found roaming the museum, interacting with guests and helping take care of facilities operations. But it is what he does in his spare time that proves most inspiring.
An avid railroad hobbyist and member of the Sacramento Valley Live Steamers, Nance has hand built his own working 1/8th scale steam engine, almost an exact replica of Walt's own Lilly Belle.
"Well, I've always loved trains," says Nance, echoing Walt's own sentiment. "Ever since my first trip to Disneyland or riding the train around the country, I've always loved the railroad and its history."
Walt would say, "Any boy of 16 could build a train like mine if he applied himself. And it wouldn't cost him much money." For Nance, this interest did indeed begin in his teenage years, "When I first started high school I wanted to build a steam locomotive. I was looking at different designs […] that people had built and I really just loved the design of the CP 173 and its history."
Central Pacific locomotive No. 173 (known as CP 173) was a classic iron horse from the golden age of railroading. Built in Nance's own hometown of Sacramento in the late 1860s, it was later redesigned in 1872. The new design was a marvel of both aesthetics and mechanics. It would become an immensely popular model for future locomotives.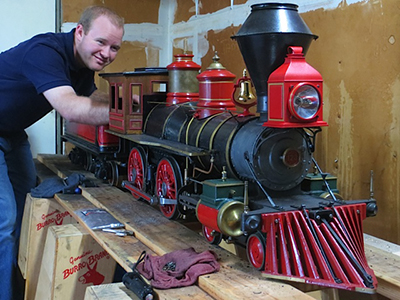 Flash forward nearly 80 years to Southern California in the late 1940s where an impassioned Walt Disney was planning to build his own backyard railroad. A friend of his and avid railroad historian, Gerald Best, had built a 1/2inch scale model of the CP 173, and would show Walt a photograph of the locomotive. Walt immediately took a liking to it and chose to model his own Lilly Belle on such, as Best would point out, "[Walt] had a great eye for design."
While still an engineer on the Disneyland Railroad, Nance began to actively pursue his own project. Building began in June 2010, as he poured over railroad catalogs for the proper parts and even machining his own at times. As reference, Nance would go back to the source, "beyond the Lilly Belle," using the original blueprints of CP 173. Roger Broggie of the Disney Studio Machine Shop would have used the same materials for Walt's locomotive.
"Since Walt built his train there have been many things that have changed in the live steam hobby," Nance says, "It's about keeping things as simple as possible." This includes mechanics that ensure better efficiency and ease of operation. But Nance was still tasked with constructing and fine-tuning the engine on his own. "Patience is a big key in this hobby," he comments, "You have to have a lot of patience and it's also good not to rush anything. If you're working on something and you can't get it to fit just right, just take a 15 or 20 minute break a little rest period and really come back at it with a fresh mind."
While in Anaheim, Nance found help and advice from the team at the Disneyland Railroad roundhouse. "I would take a lot of progress photos and pictures into show them, and they were able to help me get started in the project." Construction then continued with Nance's return to the Sacramento area. He speaks modestly of the building process, "It was a simple matter of putting it together studying the blueprints making sure that all the pieces fit well together, just a very general step-by-step process like putting together a model ship or a model car. With much of my time being spent at the museum, I had to find my own 'Roger Broggie' to complete the project. When I met Jesse Banning from Banning Locomotive works, I knew he was the one for the job."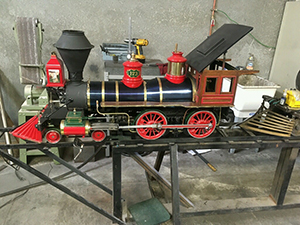 Nance has yet to name his own locomotive. "I'll probably just keep it as CP 173," he says, "or until I'm married and name it after my wife just like Walt did." Regardless it will no doubt be a very exciting moment when the locomotive is fully certified and running along the tracks of the Sacramento Valley Live Steamers.
In a modern world increasingly dominated by new technologies, it is comforting to know there are still those like Tom Nance who practice their craft and passion like those that came before them. "I see it as a learning experience because it's certainly been that. It's also an opportunity to bring friends and family and teach them about the hobby as well as getting the hobby out there. It's really something special; Walt loved it. It's really a great family opportunity to learn a lost art." Walt would be proud.
---
Lucas O. Seastrom is a writer, filmmaker, and contracting historian for The Walt Disney Family Museum.
---
Sources
-Broggie, Michael. Walt Disney's Railroad Story: The Small-scale Fascination That Led to a Full-scale Kingdom. Virginia Beach, VA: Donning, 2006. Print.
-"Interview with Tom Nance." Personal interview. 22 June 2015.
-"Interview with Tom Nance." Personal interview. 26 June 2015.
Discussion